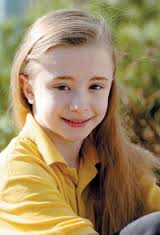 Kerry Danielle Ingram (Born May 26, 1999) is a Olivier-Winning British Actress. In 2010, she played the role of Matilda along with Josie Griffiths and Adrianna Bertola in Stratford Upon Avon. Then, in 2011, she reprised the role on the West End stage with Cleo Demetriou, Sophia Kiely and Eleanor Worthington-Cox. She left on April 12, 2012.
Village Child in Robin Hood
Street Child in Burke and Hare
Turning Girl 8 in Les Miserables
TelevisionEdit
Shireen Baratheon in Game of Thrones
Extra in Diddy Movies
Workhouse Child in Oliver!
Matilda in Matilda The Musical