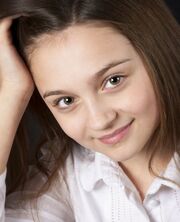 Isobelle Molloy (Born October 6, 2000) is a British child actress who has played the role of Matilda in Matilda the Musical. In the original West End cast, Isobelle played Amanda Thripp, before going on to play the role of Matilda. She shared the role with Eleanor Worthington-Cox, Cleo Demetriou and Jade Marner.
Professional Theatre
Workhouse Child - Oliver!
Amanda Thripp and Matilda - Matilda the Musical
Film
Young Malificient - Malificient
Television
Tilly - Comic Relief
Bella Young - Eastenders
Isobelle played Amanda with the original West End cast before taking over the title role.
Her first show was April 16th 2012.